Just bringing this to your attention... 100 pipes are on the road now, and with the feedback that provides, these things are fact.... This is the fastest pipe going. MANY have switched from other brands and gained speed without question. I can't say this enough... This pipe is loud. Period. Having said that, please understand, it's not some ghetto open header sound. It's a fantastic growl, but loud.
Scroll down for mounting tips...
Inventory status... If
http://www.mnnthbx.com
will let you pay for it, it's in stock.
Shipping details here....
viewtopic.php?f=124&t=67603
PLEASE
give me some feedback once you guys try these pipes. I think you'll find they are feather light and make great power. I look forward to hearing from you.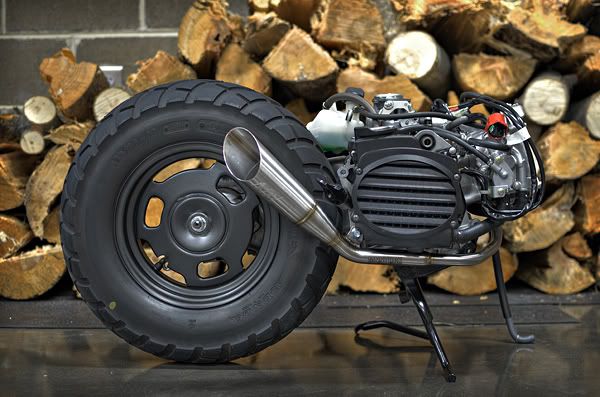 OK, here's some fresh shots of the final proto-type. Some tweaking will be done to the header to optimize ground clearance on slammed Rucks, but the cone and baffle are final, less one change. The pipe pictured here is black on the inside. We're going back to raw stainless inside, as the black gets scuffed as the baffle is installed. I prefered the raw ID anyway... Oh, it will read "MNNTHBX" in place of "Jardine".
*It has a look similar to nothing out there. It's a GP megaphone style and it's true to it's design. None of that magaphone shape w/ some wall and tiny hole in the back junk.
*We went ahead and raked it up @ basically the same angle as the fork. It has that nice custom look without having to chop a pipe up.
*It sounds great. I'm amazed we were able to get this much deep growl from such a small pipe. I was worried the entire process it would have some junk open header sound. Farthest thing from the truth...
*It's fast. We have lots of pipes in our crowd, and are very familiar with most the common players. We pulled a Dr D off what became our test bike to put this on, and instantly gained solid speed everywhere.
*There is enough spacing to the tire to allow anyone to mount a fatty wheel and tire with no need to modify the exhaust to fit.
*It has to be the lightest full exhaust on the market.
Less than 2.5lbs!
*LOTS of ground clearance. Go ahead and slam that Ruck w/o fear of grinding the header off....
*As with all our stuff, we skipped the greed, and will offer it @ what should make it one of the cheapest pipes on the market.
Big rake, clean welds...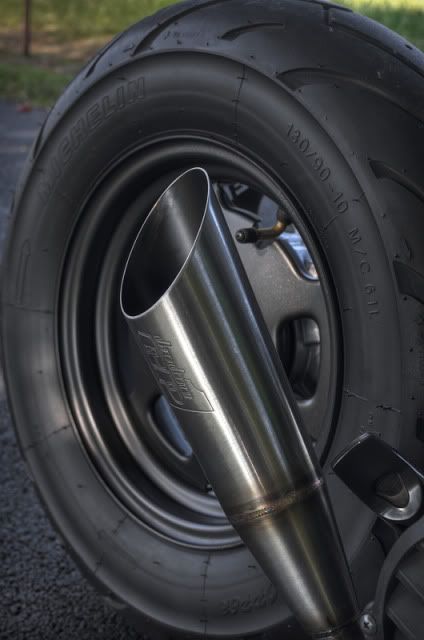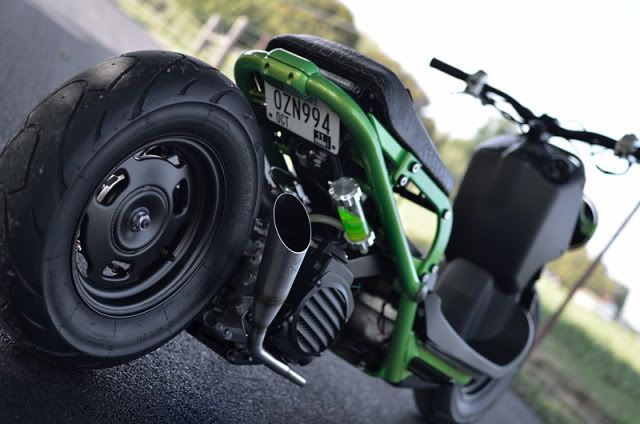 Plenty of room, fatty ready...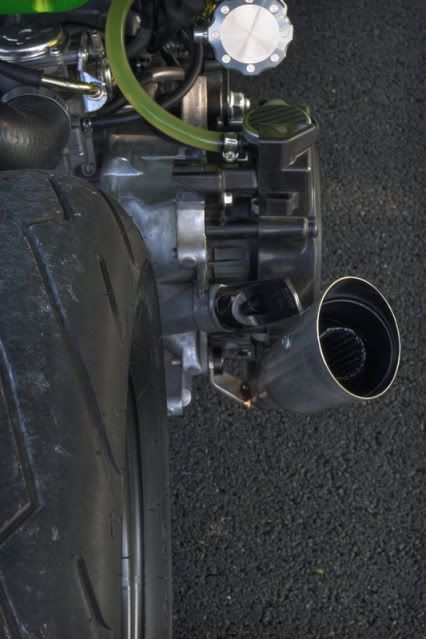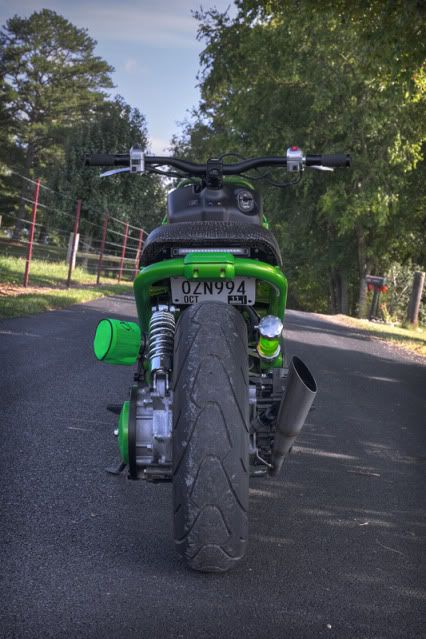 I love the fact the mount is so small and clean, it almost disappears...
NOTE: In full disclosure, it is louder than all the pipes we have here. Not ear bleeding loud, but nowhere near quite, so if that's a downer to you, this is not your exhaust. The camera doesn't do the tone very much justice, though it will do for now...
Here's a sound clip of one of the earlier proto-types.
From time to time, people have issue mounting this pipe, so I thought I'd touch on a few things. I deal with customers of all mechanical abilities, and though this is a super easy task, some common sence should be used. Be aware the rear tab will act different depending on how it's flipped. Standard proceedure for mounting any pipe should be as follows... Mount the headpipe to the cylinder hand tight. Mount the hanger harware hand tight. Starting front to rear, tighten everything down. This pipe should clear most fatties, though it's not realistic for me to test every possible combination. If you have a 10x7, 10x8, or 12x7, it may require adding a shim or washer behind the rear tab to space it out just a bit. Some have had good luck w/ 12x8, some have not. Never stess any of the system enough to put it under a heavy mounted bind, or failure would obviously be more likely to occur down the road. The rear tab is such a simple piece, those in need of some odd set-up should be able to fab one from scratch with only basic tools. Pics of an unaltered mount for reference...